Welcome to the fourth month of the Unlocking the Past 2022 Reading Challenge: Around the World. This month focuses on books that take place in Eastern Europe. While I will generally focus on Historical Fiction novels, I have included plenty of contemporary options as well. The majority of recommendations come from https://inspirationalhistoricalfiction.com/, other readers, or other authors. Especially don't forget to check out my partner's website, https://amongthereads.net/book-setting/europe/eastern-europe/. She has broken her reviews down by month. If none of these suggestions appeal to you, I highly recommend joining the Avid Readers Facebook Group and asking for their recommendations. They are AMAZING and your TBR pile will never be the same.
Add your suggestions in the comments, and/or tell me what you are reading. Have you read any of these below?
Monthly Reminders:
*If you read a book for March, don't forget to go to yesterday's post to comment and get your name entered for your chance to win a print copy. (You'll also earn your entry for the end of the year giveaway.)
*You can also join the Facebook Group. for more interaction and suggestions, or if you'd like a bookmark to remind you of the monthly challenges, fill out this Google Form.
---
King's Ransom by Jan Beazely and Thom Lemmons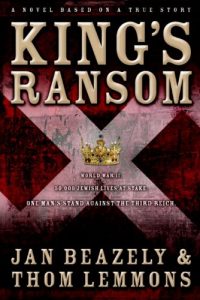 1940 – Bulgaria
Based on a True Story
Set during the darkest days of World War II, King's Ransom tells the heroic story of Tsar Boris III, King of Bulgaria, and his extraordinary efforts to save his country's Jewish population from Hitler's concentration camps. Aware of the price he might pay for his risks, Boris faced the Third Reich with courage and resolve, firm in his Christian convictions that would not permit him to abandon nearly 50,000 Jews. Boris, along with members of the Orthodox Church, Jewish religious leaders, and others, ultimately ensured that no Bulgarian Jews lost their lives to Hitler's regime. Boris's quest to save Bulgaria's Jews is interwoven with the love story of Daria, the Jewish attendant to the Bulgarian royal family, and Dobri, a sergeant in the king's guard. With courageous characters and passionate storytelling, King's Ransom reveals how individuals acting on faith can change the course of history.
---
A Daring Escape by Tricia Goyer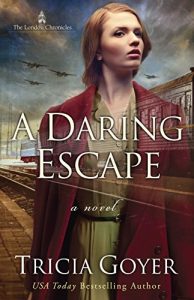 1938 – Czechoslovakia
When Danger Closes In, Who Will Save the Children?
At the height of World War II, American Amity Mitchell is living a comfortable life abroad as a tutor in England. But that changes when an urgent telegram arrives from her brother, Andrew, summoning her to Prague. Andrew's efforts to help Jewish children escape Czechoslovakia have grown desperate as Nazi forces tighten their grip on the country. Amity knows she can't ignore God's call to join Andrew in coming to the children's aid.
Amity's boss, Clark, follows her to Prague to urge her to return but soon finds himself helping the Mitchell siblings prepare Kindertransports bound for the safety of England while threats of German occupation escalate. As Amity and Clark race to save innocent lives, God is drawing them closer to each other.
---
The Warrior Maiden by Melanie Dickerson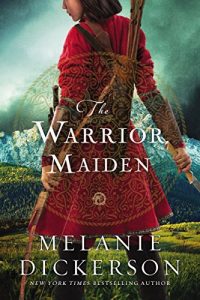 1423 – Lithuania
She knows women are expected to marry, cook, and have children, not go to war. Can she manage to stay alive, save her mother, and keep the handsome son of a duke from discovering her secret?
When Mulan takes her father's place in battle against the besieging Teutonic Knights, she realizes she has been preparing for this journey her whole life—and that her life, and her mother's, depends on her success. As the adopted daughter of poor parents, Mulan has little power in the world. If she can't prove herself on the battlefield, she could face death—or, perhaps worse, marriage to the village butcher.
Disguised as a young man, Mulan meets the German duke's son, Wolfgang, who is determined to save his people even if it means fighting against his own brother. Wolfgang is exasperated by the new soldier who seems to be one step away from disaster at all times—or showing him up in embarrassing ways.
From rivals to reluctant friends, Mulan and Wolfgang begin to share secrets. But war is an uncertain time and dreams can die as quickly as they are born. When Mulan receives word of danger back home, she must make the ultimate choice. Can she be the son her bitter father never had? Or will she become the strong young woman she was created to be?
This fresh reimagining of the classic tale takes us to fifteenth-century Lithuania where both love and war challenge the strongest of hearts.
---
Sold into Freedom by Carole Towriss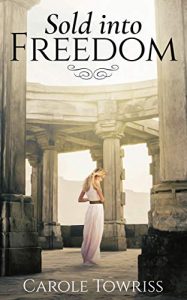 49 – Macedonia
Taught to hear messages from the goddess from a young age, Elantia's life is shattered when she is captured from her home in southwest Britannia and sold as a slave in Macedonia. She wants nothing more than to escape and return home—after she kills the man who took the only good thing left in her life.
Tossed aside by the Empire, wounded tribune Quintus Valerius ends up in sleepy Philippi to retire. Manipulated into becoming the prison keeper, he vows to return to Rome as soon as possible to reclaim his reputation and his life. He is intrigued by the quiet Jewish teacher who speaks of truth and peace, but is convinced he can never have either.
When Elantia's shocking actions shake up the town and her life is threatened, Quintus risks what little he has left to save her—only to put Paulos and his friends in even greater danger.
---
Lydia, Woman of Philippi by Diana Wallis Taylor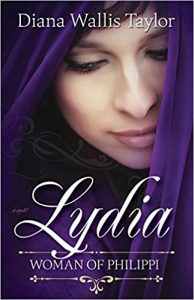 First Century – Macedonia
Smart, strong, and a follower of the Jewish God, Lydia has nonetheless always quietly conformed to the expectations of the wealthy Roman society surrounding her. Even though married off at fifteen to a man she dislikes, she is determined to be a faithful wife. But when her husband is killed some years later, Lydia vows never to remarry and returns to her father's house in Thyatira with her twelve-year-old daughter. There, a new life begins to emerge.
As she is trained in the family dye business, Lydia's shrewd management quickly creates profit, prestige—and envy. At odds with her jealous brother, who is a staunch Roman and can't understand her obsession with the Jewish religion, Lydia finds herself yet again at the mercy of a patriarchal society. Will fleeing to Philippi be enough to protect herself and those under her care? Will she keep her vow to widowhood when a handsome Greek God-fearer turns out to be more than just an employee? And when she meets a strange man named Paul the apostle by the river one Sabbath day, will Lydia have the courage to once more let her life be dramatically changed—this time forever?
---
The Medallion by Cathy Gohlke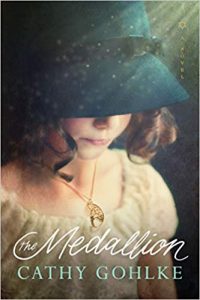 1939 – Poland
Seemingly overnight, the German blitzkrieg of Warsaw in 1939 turns its streets to a war zone and shatters the life of each citizen―Polish, Jewish, or otherwise. Sophie Kumiega, a British bride working in the city's library, awaits news of her husband, Janek, recently deployed with the Polish Air Force. Though Sophie is determined that she and the baby in her womb will stay safe, the days ahead will draw her into the plight of those around her, compelling her to help, whatever the danger.
Rosa and Itzhak Dunovich never imagined they would welcome their longed-for first child in the Jewish ghetto, or that they would let anything tear their family apart. But as daily atrocities intensify, Rosa soon faces a terrifying reality: to save their daughter's life, she must send her into hiding. Her only hope of finding her after the war―if any of them survive―is a medallion she cuts in half and places around her neck.
Inspired by true events of Poland's darkest days and brightest heroes, The Medallion paints a stunning portrait of war and its aftermath, daring us to believe that when all seems lost, God can make a way forward.
When the Heart Sings by Liz Tolsma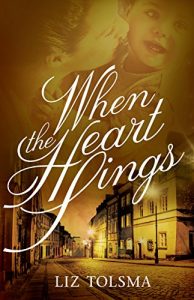 1943 – Poland
Natia has a secret—and she's hiding him right beneath her captor's nose.
In 1943 Poland, the Nazis have forced Natia and Teodor from their peaceful farm to the harsh confines of a labor camp. When the couple is separated, Natia is chosen to be the housekeeper for the camp's overseer, and Teodor is sent to work in the factory. Despite the strict camp rules—and the consequences for disobeying them—Natia finds a way to communicate with Teodor by sending messages through song as she passes Teodor's dormitory.
The stakes get higher when Natia finds a Jewish orphan on the overseer's doorstep. She is determined to protect the boy and raise him as the child she and her husband were unable to bear—but if her German captors discover how much she's hiding, both she and Teodor may pay the ultimate price. . .
Auschwitz Lullaby by Mario Escobar
1943 – Poland
Auschwitz Lullaby brings to life the story of Helene Hannemann—a woman who sacrificed everything for family and fought furiously for the children she hoped to save.
On an otherwise ordinary morning in 1943, Helene Hannemann is preparing her five children for the day when the German police arrive at her home. Helene's worst fears come true when the police, under strict orders from the SS, demand that her children and husband, all of Romani heritage, be taken into custody. Though Helene is German and safe from the forces invading her home, she refuses to leave her family—sealing her fate in a way she never could have imagined.
After a terrifying trek across the continent, Helene and her family arrive at Auschwitz and are thrown into the chaos of the camp. Her husband, Johann, is separated from them, but Helene remains fiercely protective of her children and those around her. When the powers-that-be discover that Helene is not only a German but also a trained nurse, she is forced into service at the camp hospital, which is overseen by the notorious Dr. Mengele himself.
Helene is under no illusions in terms of Dr. Mengele's intentions, but she agrees to cooperate when he asks her to organize a day care and school for the Romani children in the camp. Though physically and emotionally brutalized by the conditions at Auschwitz, Helene musters the strength to protect the children in her care at any cost. Through sheer force of will, Helene provides a haven for the children of Auschwitz—an act of kindness and selflessness so great that it illuminates the darkest night of human history.
Based on a true story, Mario Escobar's Auschwitz Lullaby demonstrates the power of sacrifice and the strength of human dignity—even when all hope seems lost.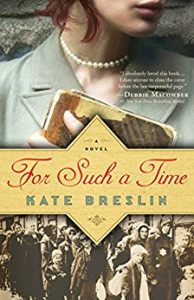 1944 – Poland (German Occupied)
In 1944, blond and blue-eyed Jewess Hadassah Benjamin feels abandoned by God when she is saved from a firing squad only to be handed over to a new enemy. Pressed into service by SS-Kommandant Colonel Aric von Schmidt at the transit camp of Theresienstadt in Czechoslovakia, she is able to hide behind the false identity of Stella Muller. However, in order to survive and maintain her cover as Aric's secretary, she is forced to stand by as her own people are sent to Auschwitz.
Suspecting her employer is a man of hidden depths and sympathies, Stella cautiously appeals to him on behalf of those in the camp. Aric's compassion gives her hope, and she finds herself battling a growing attraction for this man she knows she should despise as an enemy.
Stella pours herself into her efforts to keep even some of the camp's prisoners safe, but she risks the revelation of her true identity with every attempt. When her bravery brings her to the point of the ultimate sacrifice, she has only her faith to lean upon. Perhaps God has placed her there for such a time as this, but how can she save her people when she is unable to save herself?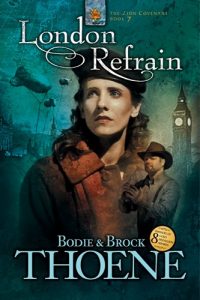 1939 – Poland
England teeters on the brink of war.
It's no longer a question of if. It's a matter of when.
In the dark fall of 1939, the hopes of the Polish people fade as Nazi bombers strafe the beloved city of Warsaw. Politicians debate while hundreds stand in lines at the British Embassy, desperate to flee the country before Hitler's ground forces arrive.
Mac McGrath, a veteran American photographer, recorded the landslide toward war with dedication, believing that if he told the truth, the world would rise up and put a stop to Hitler's evil plans. Now his foolish idealism embarrasses him.
Outside the embassy gates, Jewish schoolteacher Eva Weitzman prays for a miracle. Without a British passport, she will fall into the Nazis' clutches.
Who will live and who will die? Will anyone dare to stand against the apathy of nations?
---
Like a River from Its Course by Kelli Stuart
1941 – Ukraine
An epic novel exposing the ugliness of war and the beauty of hope
The city of Kiev was bombed in Hitler's blitzkrieg across the Soviet Union, but the constant siege was only the beginning for her citizens. In this sweeping historical saga, Kelli Stuart takes the reader on a captivating journey into the little—known history of Ukraine's tragedies through the eyes of four compelling characters who experience the same story from different perspectives.
Maria Ivanovna is only fourteen when the bombing begins and not much older when she is forced into work at a German labor camp. She must fight to survive and to make her way back to her beloved Ukraine.
Ivan Kyrilovich is falsely mistaken for a Jew and lined up with 34,000 other men, women, and children who are to be shot at the edge of Babi Yar, the "killing ditch." He survives, but not without devastating consequences.
Luda is sixteen when German soldiers rape her. Now pregnant with the child of the enemy, she is abandoned by her father, alone, and in pain. She must learn to trust family and friends again and find her own strength in order to discover the redemption that awaits.
Frederick Hermann is sure in his knowledge that the Führer's plans for domination are right and just. He is driven to succeed by a desire to please a demanding father and by his own blind faith in the ideals of Nazism. Based on true stories gathered from fifteen years of research and interviews with Ukrainian World War II survivors, Like a River from Its Course is a story of love, war, heartache, forgiveness, and redemption.
Then Sings My Soul by Amy K Sorrells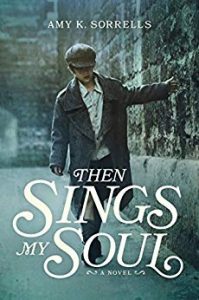 1900s/1990s – Ukraine/Michigan
1904, Chudniv, Ukraine. Playing hide-and-seek in bucolic fields of sunflowers, young Jakob never imagines the horrific secrets he will carry as he and his brother escape through genocide-ridden Eastern Europe.
1994, South Haven, Michigan. At age 94, time is running out for any hope that Jakob can be free from his burden of guilt.
When Jakob's wife dies, he and his daughter, Nel, are forced to face the realities of his worsening dementia—including a near-naked, midnight jaunt down the middle of main street—as well as emerging shadows Nel had no idea lay beneath her father's beloved, curmudgeonly ways.
While Nel navigates the restoration and sale of Jakob's dilapidated lake house, her high school sweetheart shows up in town, along with unexpected correspondence from Ukraine. And when she discovers a mysterious gemstone in Jakob's old lapidary room, Jakob's condition worsens as he begins having flashbacks about his baby sister from nearly a century past.
As father and daughter race against time to discover the truth behind Jackob's fragmented memories, the God they have both been running from shows that he redeems not only broken years, but also the future.
---
What recommendations do you have? What do you hope to read?