Welcome to the eighth month of the Unlocking the Past 2021 Reading Challenge. This month focuses on the WWI. Many have asked if it has to occur in the USA. I leave that up to you but ask there be at least one American as a character. There are several books which take place on US soil, including the book I'll be reading this month called Until June by Barbara Britton. All the suggestions below have some connection to the US during WWI, so you'll probably notice some really popular titles missing that I would have normally included. I've used the Inspirational Historical Fiction Finder to pull together my list of suggestions. I have several on my bookshelves, but we're starting to reach the eras that I don't generally read. I'm looking forward to peeking into parts of history I am not as familiar with.
Add your suggestions in the comments, and/or tell me what you are reading. Have you read any of these below? Which one should I choose for this month? Let me know.
Also, if a title has (read and reviewed), clicking on that takes you to a review I've written on that book. Just in case you are interested in learning more.
Monthly Reminders:
*If you read a book for July, don't forget to go to yesterday's post (RCR: Heart on the Line) to comment and get your name entered for your chance to win a print copy. (You'll also earn your entry for the end of the year giveaway.)
*You can also join the Facebook Group. for more interaction and suggestions, or if you'd like a bookmark to remind you of the monthly challenges, fill out this Google Form.
---
A Bond Never Broken by Judith Miller
For many years, Ilsa Redlich has helped her parents run a hotel in South Amana, but as the United States enters the Great War, she can feel her world changing. The residents of the towns surrounding the Amana Colonies used to be accepting of their quiet, peaceful neighbors, but with anti-German sentiment running high, the Amana villages are now plagued by vandalism, threats, and insults. Things get even worse when Ilsa finds out her family won't be allowed to speak German in public–and that Garon, the childhood friend she's long been smitten with, has decided to join the army.
Jutta Schmidt is shocked when several members of the Council of National Defense show up on her family's doorstep. Sure, the Schmidts once lived in the Amana Colonies, but that was years ago. She's even more surprised when the council demands that she travel to Amana and report back on any un-American activities. Not daring to disobey the government agents, Jutta takes a job at the South Amana hotel, befriends the daughter of the owners, and begins to eavesdrop every chance she gets.
When Jutta hears Ilsa making antiwar remarks and observes Garon assisting a suspicious outsider, she is torn at the prospect of betraying her new friends. But what choice does she have? And when Garon is accused of something far worse than Jutta could imagine, can the Amana community come to his aid in time?
A Bride Sews with Love in Needles, California by Erica Vetsch
When her brother is injured fighting in France, Meghan enlists her fellow Harvey Girl waitresses to sew a Red Cross signature quilt to raise money for wounded doughboys. Local horse breeder Caleb McBride longs to join the battle, but the army won't take him. Because he has kept his shameful infirmity a secret, the townsfolk have labeled him a coward and war profiteer. When Meghan uncovers his malady, her poor opinion of Caleb unravels. Can this beautiful seamstress find a way to mend his heart?
A Christmas Hope by Stacy Henrie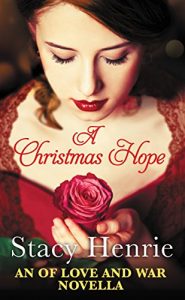 1918 – Iowa
Having experienced the heartache of unrequited love, Maria Schmitt desperately seeks a new life. Landing a position as a clerk in a Sioux City bank is just what she needs to get started on her journey toward healing. But a dashing stranger soon puts her job-and her heart-in jeopardy.
Saving lives was all Dale Emerson ever wanted to do . . . until a fateful day in France shattered his career as a surgeon. He lost everything that mattered, and the last thing he wants to do is resign himself to a life without medicine working at his uncle's bank. Then he meets Maria, a compassionate woman who can see past his scars to the man he once was-and the man he could be again. With Christmas right around the corner, these two wounded hearts may find that hope and a little holiday cheer are just the ticket to letting go of regrets-and embracing a future full of love and possibility.
The Crimson Cipher by Susan Page Davis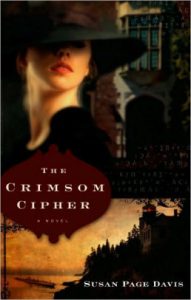 1915 – Maine and other New England Locations
A female Navy cryptographer seeks to save lives…and uncover her father's killers.
In 1915, German sympathizers escalated acts of sabotage in the United States to keep the nation from joining in the war. Following the mysterious murder of Emma Shuster's father, Lt. John Patterson invites Emma to become a Navy cryptographer because of the expertise she gained in helping her father develop a cipher system. Emma finds new strength in her faith as she strives to outwit her adversary, known only as Kobold – German for goblin. Can Emma and John find love in the midst of turmoil as America plunges toward war?
A Doctor's Heart by Cynthia Hickey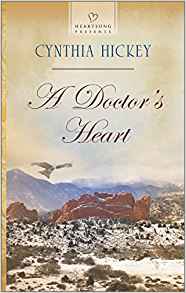 World War I – Colorado
Betrayed by her soldier fiancé, Betsy takes a job as a Harvey Girl waitress and vows to steer clear of military romance. But soon she's falling for her army pen pal, Dr. Spencer Gregory. When a wounded Spencer returns home and rebuffs her friendship and love, Betsy's deepest fears come true.
Though he's a decorated soldier, Spencer sees himself as a burden—one he won't saddle Betsy with. But keeping her at arm's length is no longer an option when Betsy's former fiancé shows up eager to win her back. If their romance is to survive the war, Spencer must set aside his pride and win her heart.
In Every Heartbeat by Kim Vogel Sawyer
As three friends who grew up in the same orphanage head off to college together, they each harbor a cherished dream. Libby wishes to become a famous journalist, Pete plans to study to become a minister, and Bennett wants to join a fraternity and have as much fun as possible. But as tensions rise around the world on the brink of World War I, the friends' differing aspirations and opinions begin to divide them, as well. And when Libby makes a shocking discovery about Pete's family, will it drive a final wedge between the friends or bond them in ways they never anticipated?
Glimpses of Paradise James Scott Bell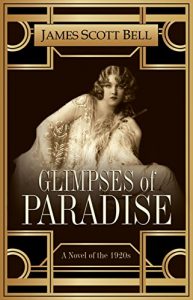 1920s – California
A sweeping historical epic about dreams and dreamers, love and lovers, and the glitter factory of Hollywood
Two high school kids in small town Nebraska have their dreams. Zee, a minister's daughter, wants to be a movie star. Doyle, the son of a wealthy lawyer, expects to follow in his father's footsteps and practice law.
But World War I explodes and changes everyone forever. When Doyle ends up on the battlefields of France, though he performs ably, he comes home disillusioned. Rejecting his parents' pleas to return to school, he finds himself in Los Angeles on the bottom rung of society.
Zee Miller is also in L. A., having run away from her father and the religion of her youth. But a stunning string of events, resulting in a charge of murder, will see their lives intersecting again in a way that may shatter them both.
Homefront Hero by Allie Pleiter
1918 – South Carolina
Dashing and valiantly wounded, Captain John Gallows could have stepped straight out of an army recruitment poster. Leanne Sample can't help being impressed—although the lovely Red Cross nurse tries to hide it. She knows better than to get attached to the daring captain who is only home to heal and help rally support for the war's final push. As soon as he's well enough, he'll rush back to Europe, back to war—and far away from South Carolina and Leanne. But when an epidemic strikes close to home, John comes to realize what it truly means to be a hero—Leanne's hero.
Hope at Dawn by Stacy Henrie
1918 – Iowa
With her brothers away fighting the Great War overseas, Livy Campbell desperately wants to help her family. Her chance comes when she meets a handsome stranger who lands her a job as a teacher in a place far from her parents' farm. But the war casts a long shadow over the German-American town that Livy now calls home-and the darkness will test everything she thought she knew about family and love . . .
More than anything, Friedrick Wagner wants to be part of his adopted country's struggle for peace. But when the bitter animosity between Germans and Americans soon turns citizens against newcomers, friend against friend, he will do whatever it takes to protect Livy from the hysteria that grips their town. As tragedy-and dark secrets from the past-threaten their future, Friedrick and Livy have one chance to stand up for what's right . . . and one chance to fight for their love.
The Lost Generation by Erica Marie Hogan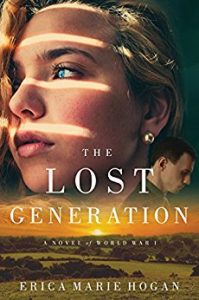 1914 – England, Canada, America, France
On August 5, 1914, the world changed forever. For John and Beth Young, the happiness they finally achieved was snatched out from under them. For Emma Cote, her husband Jared would do his duty, despite her feelings. For Christy Simmons, an uncertain future with the boy she loved. The lives of six people from across the British Empire to America were changed forever. When John, Jared, and Will find themselves thrust together in France and Emma and Christy decide to seek out their missing husbands, the lives of these three families intertwine in ways none of them could possibly have imagined. Working together in a field hospital, Emma and Christy learn to rely on and protect each other. Lost together in a strange forest and cut off from their unit, the three soldiers run and hide. But the further they go, the more they realize the chances of all of them surviving the war unscathed are nonexistent.
Man in the Blue Moon by Michael Morris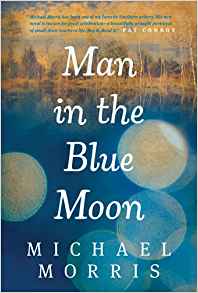 WWI – Florida
"He's a gambler at best. A con artist at worst," her aunt had said of the handlebar-mustached man who snatched Ella Wallace away from her dreams of studying art in France. Eighteen years later, that man has disappeared, leaving Ella alone and struggling to support her three sons. While the world is embroiled in World War I, Ella fights her own personal battle to keep the mystical Florida land that has been in her family for generations from the hands of an unscrupulous banker. When a mysterious man arrives at Ella's door in an unconventional way, he convinces her he can help her avoid foreclosure, and a tenuous trust begins. But as the fight for Ella's land intensifies, it becomes evident that things are not as they appear. Hypocrisy and murder soon shake the coastal town of Apalachicola and jeopardize Ella's family.
The Mending of Lillian Cathleen by Linda Brooks Davis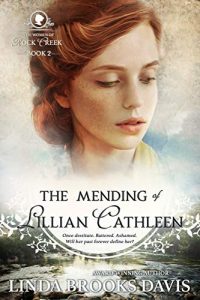 1914 – Oklahoma
It's 1914. While American women are demanding the vote and the first flames of the Great War are igniting Europe, a battle of a different sort rages in Oklahoma. The thermometer registers one hundred six degrees, an out-of-the-ordinary occurrence, even for the twenty-eighth day of July.
     But this is no ordinary day. A murder trial has concluded, and the jury has reached a verdict.
The star witness for the prosecution fidgets in the old church pew. She's lost enough, given more than her share. Hasn't she? The answer rests in the hands of twelve men. Not a single woman sits among the jurors.
     Lily eyes the judge. And the courtroom holds its breath.
A Passion Most Pure by Julie Lessman
She's found the love of her life. Unfortunately, he loves her sister. As World War I rages across the Atlantic in 1916, a smaller war is brewing in Boston. Faith O'Connor finds herself drawn to an Irish rogue who is anything but right for her. Collin McGuire is brash, cocky, and from the wrong side of the tracks, not to mention forbidden by her father. And then there's the small matter that he is secretly courting her younger sister. But when Collin's affections suddenly shift her way, it threatens to tear Faith's proper Boston family apart.
Pieces of Silver by Maureen Lang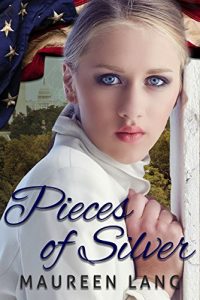 1917 – Washington DC
Threats, betrayal and love . . .
Liesel Bonner never questioned her loyalty to America—until she is forced to either protect or betray the man everyone expects her to marry.
David de Serra is the intriguing and handsome federal agent demanding Liesel's help in his case against her would-be fiancé.
Set during the turbulence of 1917 as America is swept into the Great War, this is a tale of faith, betrayal and unexpected love.
All Liesel Bonner wants is to be part of the great service army, joining everyday Americans working to support the government and soldiers headed overseas to fight the Germans. But living in a place like Washington, D.C. makes it difficult to find someone willing to hire a German American.
All David de Serra wants is to stop German espionage—and to do so fairly, without targeting innocent German Americans.
David believes Liesel's choice is easy: her country's needs are more important than the loyalty she holds for a man she never really knew. When the lines blur between what both of them want, their lives are altered forever.
Remember Me by Maureen Lang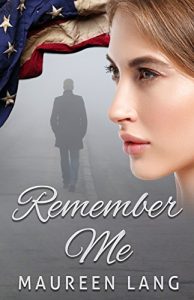 1917 – Washington DC
For Josef von Woerner, remembering his past will destroy his future.
In this riveting sequel to Pieces of Silver, Josef von Woerner is a wanted man. After America enters the Great War, Josef is uncovered as a saboteur working against his own country. Trying to escape arrest, he is wounded by a federal agent, but a mysterious stranger rescues and hides him away. He wakes without a single memory of his notorious past.
Lissa Parker wants only one thing: to serve America in the long tradition of her patriotic family. But when called to help an injured neighbor she soon finds herself falling in love with him—the man without a past.
Once Josef regains his memory, he knows his only path to happiness is to bring his two lives together under one faith. He must make himself worthy of Lissa even if it means losing her forever.
The Storm Breaks Forth by Terri Wangard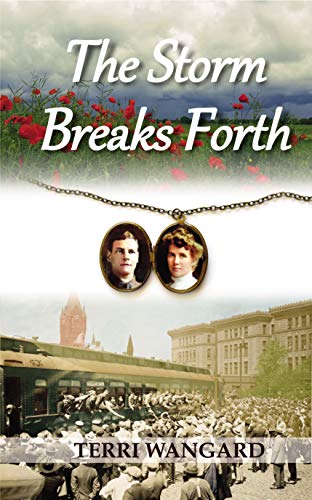 1917 – Wisconsin/France
World War I rages in Europe, and now the United States joins in. Peter Bloch heads to France with the Wisconsin National Guard, but his wife Maren is the one under attack. She's German born, and anti-German hysteria is running high. Simple suggestions for coping with wartime measures lead Maren into an active role in the community, but her service doesn't help deflect suspicion from her. Zealous patriots target her with a vengeance. Peter caught the eye of a major who seems intent on using him as a spy. He's been fortunate to avoid injury so far, but these activities are likely to get him killed. Peter and Maren dream of the day they will be reunited, but more and more, that day appears to be a mirage.
Surf Smugglers by Melody Carlson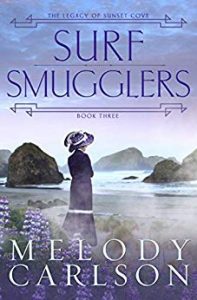 1917 – Oregon
In the summer of 1917, US troops join the allied forces in the Great War. Back in Sunset Cove, Oregon, other battles wage. Anna McDowell continues to fight old fashioned stereotypes as she runs a newspaper committed to truth. Despite opposition, she's determined to expose ongoing rum-running and prohibition lawlessness.
Adding to Anna's frustrations, her good friend Dr. Daniel seems to run hot and cold. He loves Oregon, and maybe Anna too, but he's pulled by his East Coast family responsibilities. Even the lure of a new modern Sunset Cove hospital doesn't seem enough to keep him in Sunset Cove.
Meanwhile, Anna's strong-willed daughter Katy continues to develop her dress shop by inviting family friend Sarah Rose to help out. But the woman's presence tests the small town's tolerance. And Anna's concern that her daughter is growing up too fast is confirmed when Katy's romantic life takes an unexpected turn, which Anna fears is influenced by the pressure of a devastating war that is not only changing the entire world but Sunset Cove as well.
The Thorn Healer by Pepper Basham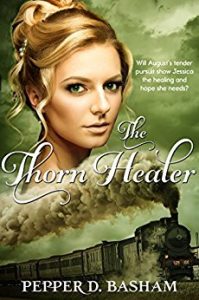 1918 – North Carolina
Jessica Ross' scars run much deeper than the wounds of a world at war. Determined to escape the ghosts of her past and the German influence on her nightmares, she returns home to the sleepy Appalachian town of Hot Springs, NC, only to find the renowned Mountain Park Hotel has been converted into a 'prison' for displaced Germans and, much to Jessica's dismay, her grandparents have befriended one of them.
August Reinhold has not only found kinship with Jessica's grandparents, but as they share their granddaughter's letters from the Front, he discovers a surprising bond drawing him toward the independent and beautiful woman. Displaced by a war and a painful history, he find Hot Springs and the intriguing, Jessica Ross, a tempting place to start over. Determined to scale the heights of her bitterness and show her the power of love, August faces more than just Jessica's resistance, but a more devious design to harm the civilian sailors housed in Hot Springs.
Will August's tender pursuit show Jessica the healing and hope she needs, or will bitterness force her into the hands of a 'true' enemy waiting to destroy much more than her heart?
Three Little Things by Patti Stockdale (read and reviewed)
1917 – Iowa
One forbidden love. Two broken hearts. Three little things.
Hattie Waltz should forget the troubled neighbor leaving for boot camp in 1917. He forgot about her ages ago. It had always been the Waltzs verses the Kregers, his family pitted against hers. When she hands him a farewell gift, a chemistry lesson unfolds. The good kind.
Arno Kreger can't leave Iowa or his old man fast enough. He's eager to prove his worth on the battlefield and stop blaming himself for his brother's death. Before entering the train, he bumps into Hattie. He's loved her forever, always from the sidelines, because nobody crosses Hattie's pa.
One innocent letter soon morphs into many. Arno and Hattie share three little secrets in each letter and grow closer together. But he's on his way to a war across the ocean, and she's still in her father's house. Their newfound love will need to survive dangers on both fronts.
Tranquility Point by Pamela S. Meyers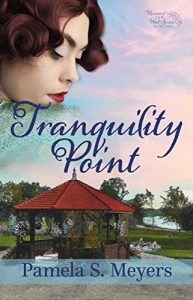 1916 – Wisconsin
Hannah Murphy is determined to make the summer of 1916, the best it can be before she heads off to law school in the fall. Like her mother and grandmother before her, she is inclined to "break the mold" when it comes to societal expectations of a young woman of means. Her mother was the first woman in town to wear bloomers, and Hannah becomes the first to ditch swim dresses in favor of a practical swimsuit that allows freedom to move through the water.
At the first gathering of the summer, she reacquaints with tall, handsome Ted Bauer, also an aspiring attorney. Ted, who is of German descent, had a huge crush on Hannah when he was in eighth grade, and she was in sixth. He's no longer the gangly boy she remembers and is quite appealing. With Geneva Lake as their backdrop, their summer romance escalates, until the dark cloud of the Great War can no longer be ignored. Although the U.S. has not yet joined the fray, people of German descent are seen with mistrust, and Ted enlists with the British Army to take the heat of discrimination off his family. With the future on hold, Hannah bids her fiancé farewell as he goes to war. Only God knows if she will ever see him again or if they will ever be able to recapture what they had those few short summer months.
Turning Tide by Melody Carlson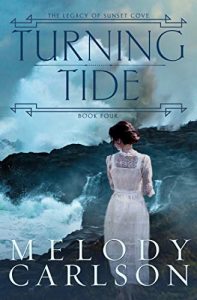 1917 – Oregon
As the Great War rages on, Sunset Cove continues to feel its impact. Running the small town newspaper, Anna McDowell can't escape the grim reports from the other side of the world, but home-front challenges abound as well. Dr. Daniel is serving the wounded on the front lines. And Katy, expecting her first child, with her husband in the trenches, tries to support the war effort with her Red Cross club. Even as the war winds down the costs are high—and Sunset Cove is not spared.
Until June by Barbara M. Britton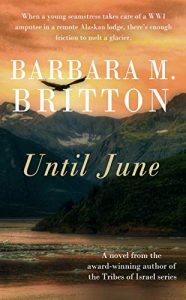 1918 – Alaska
When seventeen-year-old seamstress, Josephine Nimetz, agrees to take care of a WWI amputee in a remote Alaskan lodge, there's enough friction to melt the Mendenhall Glacier. Her position is only until June, and it pays well enough to overlook the hardship of managing a rustic home and a shell-shocked veteran.
Geoff Chambers makes it clear that he isn't too fond of the "runt" sent to take care of his needs, nor of her painful mistakes. Dealing with a depressed and addicted veteran pushes Josephine to the brink of leaving, if not for the money her salary brings.
But Josephine is a perfectionist, determined to get Geoff back on his feet—figuratively…Although, sending a rich, handsome veteran back into society may cost Josephine the man she has grown to love.
The Wings of Morning by Murray Pura
1917 -Pennsylvania
Jude Whetstone and Lyyndaya Kurtz, whose families are converts to the Amish faith, are slowly falling in love. Jude has also fallen in love with flying that new-fangled invention, the aeroplane.
The Amish communities have rejected the telephone and have forbidden motorcar ownership but not yet electricity or aeroplanes.
Though exempt from military service on religious grounds, Jude is manipulated by unscrupulous army officers into enlisting in order to protect several Amish men. No one in the community understands Jude's sudden enlistment and so he is shunned. Lyyndaya's despair deepens at the reports that Jude has been shot down in France. In her grief, she turns to nursing Spanish flu victims in Philadelphia. After many months of caring for stricken soldiers, Lyyndaya is stunned when an emaciated Jude turns up in her ward.
Lyyndaya's joy at receiving Jude back from the dead is quickly diminished when the Amish leadership insist the shunning remain in force. How then can they marry without the blessing of their families? Will happiness elude them forever?
---
---
Check out these alternatives to Amazon:  Baker Bookhouse       Barnes & Noble      Books-a-Million      Book Depository      Bookshop.org      Christianbook.com      Get It Local      Indiebound.org
Leave Your Comments:
If you have a favorite book or author who writes in this time, put it in the comments so other readers can know who to go search out for options. Old or new, it doesn't matter. 🙂