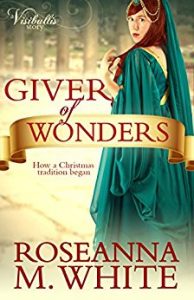 3rd Century – Turkey
A miracle once saved her life ~ will another give her a future?
Cyprus was little more than a child when a fall left her paralyzed…and when the boy known as the wonder-worker healed her. Ever since, she has wondered why the Lord spared her, what he has in store for her. But her pagan father thinks she was spared solely so she could be introduced to the wealthy wonder-worker, Nikolaos.
Nikolaos has never questioned that his call in life is to dedicate himself to the church and to God. Never, that is, until he and his cousin Petros meet the compelling Cyprus Visibullis. For years he struggles with the feelings she inspires…and with the sure knowledge that Petros loves her too.
Petros knows he will never be good enough for Cyprus's father to consider him as a match for his favorite daughter not as long as Nikolaos is there. But when tragedy strikes the Visibullis family, he will do anything to save his beloved. Unfortunately, his beloved is determined to do anything to save her sisters ~ even at the cost of herself.
As the festival of lights bathes their Greek city in beauty, Cyprus, Petros, and Nikolaos celebrate the miracle of their Savior s birth together one last time. And in remembrance of their Lord's greatest gift, one of them will make the ultimate sacrifice for the others…and a centuries-long tradition will be born.
---
Byzantium by Stephen Lawhead
1000s – Turkey
Born to rule
Although born to rule, Aidan lives as a scribe in a remote Irish monastery on the far, wild edge of Christendom. Secure in work, contemplation, and dreams of the wider world, a miracle bursts into Aidan's quiet life. He is chosen to accompany a small band of monks on a quest to the farthest eastern reaches of the known world, to the fabled city of Byzantium, where they are to present a beautiful and costly hand-illuminated manuscript, the Book of Kells, to the Emperor of all Christendom.
Thus begins an expedition by sea and over land, as Aidan becomes, by turns, a warrior and a sailor, a slave and a spy, a Viking and a Saracen, and finally, a man. He sees more of the world than most men of his time, becoming an ambassador to kings and an intimate of Byzantium's fabled Golden Court. And finally this valiant Irish monk faces the greatest trial that can confront any man in any age: commanding his own Destiny.
---
The Power and the Glory Clint Kelly
WWI – Turkey
Finding themselves in Istanbul in the midst of Turkey's massacre in World War I, Tatul and Adrine feel obliged to take a stand and fight for their homeland.
---
Swords and Scimitars by Linda Chaikin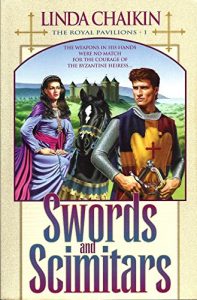 1095 – Byzantine Empire (Ancient Turkey)
WOVEN TOGETHER, THE COURAGE OF THE NORMAN KNIGHTS AND THE STRENGTH OF THE PEASANT HEART BROUGHT AGONY AND GLORY TO THE FIRST CRUSADE…
FRAMED FOR A MURDER he didn't commit, Tancred Redwan is a knight torn between his father's Norman blood and the Moorish blood of his mother. Forced to flee for his life, Tancred journeys from the golden hills of Palermo, Sicily to the seven jeweled hills of the Byzantine capitol, Constantinople. As both scholar and warrior, Tancred is caught up in the turbulent events surrounding the First Crusade, until he is suddenly forced to choose which path to follow as Christian Europe arms for the First Crusade to rescue Jerusalem and the Holy Lands from the Muslim infidels.
Helena of the Greek Nobility holds the key to his decision. Ensnared in a web of intrigue and political maneuvering within the Emperor's Sacred Palace, Helena is proud and vulnerable—a woman Tancred longs to both rescue and win.
CLAIMING HONOR AS HIS ARMOR AND FAITH AS HIS SHIELD, TANCRED REDWAN WIELDS HIS SWORD AND SCIMITAR IN THE NAME OF JUSTICE. BUT WILL HE ESCAPE THE SCIMITAR OF HIS MOORISH COUSIN AWAITING HIM ON THE ROAD TO JERUSALEM
---
989 BC – Middle East/Yemen
A mysterious beauty, a destiny set in the stars. Born under an inauspicious sign, young Ismeni is feared by her own people. The single thing she prays for: to live an invisible life. But that is not to be for the young woman who has captured the attention of the king's youngest son. A story of love, passion, and twists of fate through the eyes of the woman who will one day give birth to the legendary Queen of Sheba.