Welcome to the FIRST month of the Unlocking the Past 2022 Reading Challenge: Around the World. This month focuses on books that take place in Africa. While I will generally focus on Historical Fiction novels, I have included plenty of contemporary options as well. The majority of recommendations come from https://inspirationalhistoricalfiction.com/, other readers, or other authors. Especially don't forget to check out my partner's website, http://amongthereads.net/. The books aren't broken down by country, but you can find all sorts of wonderful reads. If none of these suggestions appeal to you, I highly recommend joining the Avid Readers Facebook Group and asking for their recommendations. They are AMAZING and your TBR pile will never be the same.
Add your suggestions in the comments, and/or tell me what you are reading. Have you read any of these below?
Also, if a title has (read and reviewed), clicking on that takes you to a review I've written on that book. Just in case you are interested in learning more.
Monthly Reminders:
*If you read a book for December, don't forget to go to yesterday's post to comment and get your name entered for your chance to win a print copy. (You'll also earn your entry for the end of the year giveaway.)
*You can also join the Facebook Group. for more interaction and suggestions, or if you'd like a bookmark to remind you of the monthly challenges, fill out this Google Form.
---
Memories of Glass by Melanie Dobson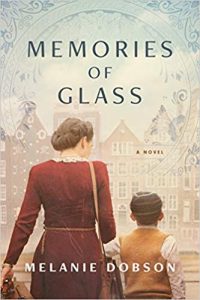 1942 – Holland
As war rips through the heart of Holland, childhood friends Josie van Rees and Eliese Linden partner with a few daring citizens to rescue Eliese's son and hundreds of other Jewish children who await deportation in a converted theater in Amsterdam. But amid their resistance work, Josie and Eliese's dangerous secrets could derail their friendship and their entire mission. When the enemy finds these women, only one will escape.
Seventy-five years later, Ava Drake begins to suspect that her great-grandfather William Kingston was not the World War II hero he claimed to be. Her work as director of the prestigious Kingston Family Foundation leads her to Landon West's Ugandan coffee plantation, and Ava and Landon soon discover a connection between their families. As Landon's great-grandmother shares the broken pieces of her story, Ava must confront the greatest loss in her own life―and powerful members of the Kingston family who will do anything to keep the truth buried.
Illuminating the story and strength of these women, award-winning author Melanie Dobson transports readers through time and place, from World War II Holland to contemporary Uganda, in this rich and inspiring novel.
---
The Entrepreneur's Nurse by Rose Fresquez
His trip to Africa is strictly business. Her attraction to a tourist is a prescription for heartbreak.
As a successful entrepreneur, Brady Sharp is all about profit. His trip to Uganda is to strike a deal and get back to his life in New York. But when he falls off a motorcycle taxi and misses the meeting and his flight, the only thing he's grateful for is the nurse who comes to his rescue.
Being the sole owner of the only clinic in a Kampala suburb, Ruth runs a tight shift. After she stitches an incoherent tourist she rescues from the roadside, she doesn't expect to see the white man again, until he shows up to her clinic to ask her out on a date—too bad, she has patients to treat in the village.
As they work side by side in a small African village, Ruth's selflessness makes Brady question everything he believed important. Each day spent with her creates a deeper attraction—a threat to his long-term goals of becoming the next billionaire.
Can Brady and Ruth pursue a long-distance relationship? At some point, they must make a conflicting choice: pursue their careers or take a chance on love.
---
Healer of Carthage by Lynne Gentry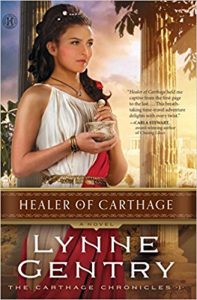 250s/Time Travel – Texas/Ancient Carthage
A twenty-first-century doctor. A third-century plague. A love out of time.
First-year resident Dr. Lisbeth Hastings is too busy to take her father's bizarre summons seriously. But when a tragic mistake puts her career in jeopardy, answering her father's call seems her only hope of redeeming the devastating failure that her life has become. While exploring the haunting cave at her father's archaeological dig, Lisbeth falls through a hidden hole, awakening to find herself the object of a slave auction and the ruins of Roman Carthage inexplicably restored to a thriving metropolis. Is it possible that she's traveled back in time, and, if so, how can she find her way back home? Cyprian Thascius believes God called him to rescue the mysterious woman from the slave trader's cell. What he doesn't understand is why saving the church of his newfound faith requires him to love a woman whose peculiar ways could get him killed. But who is he to question God? As their different worlds collide, it sparks an intense attraction that unites Lisbeth and Cyprian in a battle against a deadly epidemic. Even as they confront persecution, uncover buried secrets, and ignite the beginnings of a medical revolution, Roman wrath threatens to separate them forever. Can they find their way to each other through all these obstacles? Or are the eighteen hundred years between them too far of a leap?
---
An Ocean Away by Lisa Harris
Dateline: 1921—Northern Rhodesia and New York, New York. Lizzie MacTavis is determined to remain with the people with whom God called her to work along the banks of the rugged Zambezi River in southern Africa. Andrew Styles, an anthropologist and explorer, has been commissioned to bring Lizzie back to New York City at any cost. With a fortune at stake, Lizzie is caught between two worlds when she is finally forced
to return to the United States and discovers her life is in danger. Will Andrew turn out to be Lizzie's nemesis or hero?
---
Child of the River by Irma Joubert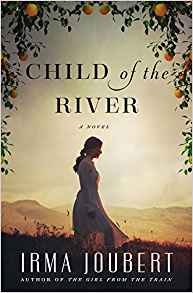 1938 – South Africa
Persomi is young, white, and poor, born the middle child of illiterate sharecroppers on the prosperous Fourie farm in the South African Bushveld. Persomi's world is extraordinarily small. She has never been to the local village and spends her days absorbed in the rhythms of the natural world around her, escaping the brutality and squalor of her family home through the newspapers and books passed down to her from the main house and through her walks in the nearby mountains.
Persomi's close relationship with her older brother Gerbrand and her fragile friendship with Boelie Fourie—heir to the Fourie farm and fortune—are her lifeline and her only connection to the outside world. When Gerbrand leaves the farm to fight on the side of the Anglos in WWII and Boelie joins an underground network of Boer nationalists, Persomi's isolated world is blown wide open. But as her very small world falls apart, bigger dreams become open to her—dreams of an education, a profession, a native country that values justice and equality, and of love. As Persomi navigates the changing world around her—the tragedies of war and the devastating racial strife of her homeland—she finally discovers who she truly is, where she belongs, and why her life—and every life—matters.
---
The Doctor's Mission by Debbie Kaufman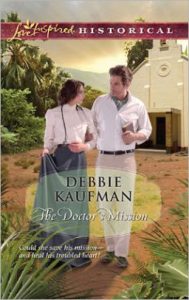 1918 – Africa
A woman doctor! Missionary William Mayweather can't hide his disappointment. The Nynabo mission in Liberia, Africa, desperately needs help, but he's vowed not to put another female in jeopardy. Too bad flame-haired Dr. Mary O'Hara refuses to turn back—and he cannot allow her to go into the jungle alone.
Medicine or marriage? For Mary, the choice was clear. Far away from the patriarchal medical community, she resolves to be of real service. She'll willingly go head-to-head with the handsome, opinionated missionary, even in the face of deadly danger. Yet the greatest tests lie in trusting God's plan—for the mission, and her future happiness in this untamed, beautiful land….
---
In Search of a Prince by Toni Shiloh
It seems like a dream come true . . . until it forces her to question everything.
Brielle Adebayo is fully content teaching at a New York City public school and taking annual summer vacations with her mother to Martha's Vineyard. But everything changes when her mom drops a bombshell–Brielle is really a princess in the island kingdom of Ọlọrọ Ilé, off the coast of Africa, and she must immediately assume her royal position, since the health of her grandfather, the king, is failing.
Distraught by all the secrets her mother kept, Brielle is further left spinning when the Ọlọrọ Ilé Royal Council brings up an old edict that states she must marry before her coronation, or the crown will pass to another. Brielle is uncertain if she even wants the throne, and with her world totally shaken, where will she find the courage to take a chance on love and brave the perils a wrong decision may bring?
*This one releases February 1st but should be available via
NetGalley
for early reading.
The Other You by Marion Ueckermann
Who am I? 
The question has Taylor Cassidy journeying from one side of America to the other seeking an answer. Almost five years brings her no closer to the truth. Now an award-winning photojournalist for Wines & Vines, Taylor is sent on assignment to South Africa to discover the inspiration behind Aimee Amour, the DeBois estate's flagship wine. Mystery has enshrouded the story of the woman for whom the wine is named.
South African winegrower Armand DeBois's world is shattered when a car accident leaves him in a coma for three weeks, and his young wife dead. The road of recovery and mourning is dark, and Armand teeters between falling away from God and falling into His comforting arms.
When Armand and Taylor meet, questions arise for them both. While the country and the winegrower hold a strange attraction for Taylor, Armand struggles with the uncertainty of whether he's falling in love with his past or his future.
---
Congo Dawn by Jeanette Windle
The smallest flame shines brightest against the darkest night.
If absolute power breeds absolute corruption, what happens when a multinational corporation with unlimited funds hires on a private military company with unbridled power, especially in a war-torn African nation where any governmental accountability is for sale at only too cheap a price?
While former Marine lieutenant Robin Duncan is no stranger to corruption or conspiracy, she has always been able to tell the good guys from the bad. At first, her current assignment is no different: working on behalf of an international corporation to insurgent killer. But as a ruthless global conspiracy begins to surface, run by powerful men who can't afford to leave witnesses, Robin doesn't know who to trust. Nor can she see any way to save the Ituri rainforest villagers she has sworn to protect. Why is God silent amid all the pain and injustice? And how do these people of faith continue to rejoice in their suffering?
---
The Confessions of X by Suzanne M. Wolfe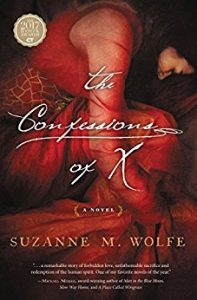 300s – Carthage
Before he became a father of the Christian Church, Augustine of Hippo loved a woman whose name has been lost to history. This is her story.
She met Augustine in Carthage when she was seventeen. She was the poor daughter of a mosaic-layer; he was a promising student and with a great career in the Roman Empire ahead of him. His brilliance and passion intoxicated her, but his social class would be forever beyond her reach.  She became his concubine, and by the time he was forced to leave her, she was thirty years old and the mother of his son. And his Confessions show us that he never forgot her. She was the only woman he ever loved.
In a society in which classes rarely mingled on equal terms, and an unwed mother could lose her son to the burgeoning career of her ambitious lover, this anonymous woman was a first-hand witness to Augustine of Hippos's anguished spiritual journey from religious cultist to the celebrated Christian saint and thinker.
Giving voice to one of history's most mysterious women, The Confessions of X tells the story of Augustine of Hippo's nameless lover, their relationship before his famous conversion, and her life after his rise to fame. A tale of womanhood, faith, and class at the end of antiquity, The Confessions of X is more than historical fiction . . . it is a timeless story of love and loss in the shadow of a theological giant.
---
What suggestions do you have? What do you think you are going to read?