Welcome to the third month of the Unlocking the Past 2022 Reading Challenge: Around the World. This month focuses on books that take place in the Caribbean. While I will generally focus on Historical Fiction novels, I have included plenty of contemporary options as well. The majority of recommendations come from https://inspirationalhistoricalfiction.com/, other readers, or other authors. Especially don't forget to check out my partner's website, http://amongthereads.net/. The books aren't broken down by country, but you can find all sorts of wonderful reads. If none of these suggestions appeal to you, I highly recommend joining the Avid Readers Facebook Group and asking for their recommendations. They are AMAZING and your TBR pile will never be the same.
Add your suggestions in the comments, and/or tell me what you are reading. Have you read any of these below?
Monthly Reminders:
*If you read a book for February, don't forget to go to yesterday's post to comment and get your name entered for your chance to win a print copy. (You'll also earn your entry for the end of the year giveaway.)
*You can also join the Facebook Group. for more interaction and suggestions, or if you'd like a bookmark to remind you of the monthly challenges, fill out this Google Form.
---
In a Pirate's Debt by Elva Cobb Martin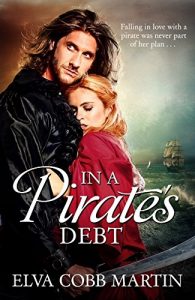 1720 – Jamaica
Saving her can land him in a hangman's noose at low tide in Charles Town Harbor. Repaying her debt to him will consign her to a life worse than death.
When confronted with a forced marriage, Travay Allston flees her stepfather's Jamaica plantation and dives into the sea. Death would be preferable to life with Sir Roger Poole, a drinking, gambling, scoundrel whose advances make her skin crawl.
Lucas sails the high seas as the dreaded Captain Bloodstone. He is on a quest to find his mother, a woman last seen clapped in irons by the Spanish. As his ship slips past Jamaica, he spies a young woman plunge into the sea. A prize of such beauty must be saved and Lucas dives in to rescue her. The last thing Lucas needs is to get involved with Travay, a childhood friend who caused him nothing but trouble. Especially now that she's become a stubborn, alluring young woman.
Lucas delivers Travay to her aunt in Charles Town and washes his hands of the affair. Or so he thinks. But when Sir Roger shows up demanding that Travay marry him or face the wrath of Charles Town's newest council member, Lucas feels that familiar boyhood tug on his heart. Will this wanted pirate of the crown risk his life to save Travay a second time? Betrothed to a man she hates, will Travay repay her debt to a pirate by marrying Sir Roger in exchange for his promise to pardon Lucas? And if she does, will such a rascal keep his word? Falling in love with the pirate was never part of her plan …
The Restitution by Marylu Tyndall
1669 – Jamaica
A woman's desperate search for her kidnapped child A father seeking forgiveness for an unconscionable act Only when they join forces, can they save their son Lady Isabel Ashton longs to marry a nobleman and live out her days in the wealth and privilege she is accustomed to as the daughter of an earl. But her plans went awry when she was kidnapped and ravished by a notorious pirate captain. Scorned by society and banished by her family to live on the island of Jamaica, Isabel decides to keep her baby. But then her precious child is kidnapped. Desperate to find him, Isabel soon discovers she must accept the help of the one man she hates most in the world–the boy's father. Determined to win the heart and forgiveness of the woman he ravished, Captain Kent Carlton searches every port in the Caribbean for Isabel. Drowning his sorrows in rum and cards, he has all but given up when an acquaintance informs him, first of the child's existence, and then of the kidnapping and Isabel's whereabouts. Thrilled Isabel agrees to accept his help, Kent soon finds himself involved in a plot of deception and revenge that threaten to destroy both him and Isabel and keep them from their son forever.
---
Port Royal by Linda Chaikin
1700s – Jamaica
As the Caribbean Sea teems with piracy and privateering, Captain Baret "Foxworth" Buckington searches for his father. Though declared legally dead, Baret is certain his father is alive, perhaps being held prisoner. Willing to jeopardize his title, his inheritance, and his life in order to find his father, he sets sail and swears vengeance upon Spain.
Amidst the slavery, brutality, and cruel gossip on a Jamican Sugar estate, Miss Emerald Harwick seeks an escape. Rejected by her father's wealthy family, Emerald is constantly reminded of her deceased mother's notorious reputation and her father's escapades on the high seas. Only two things keep her going—working in the Christian Singing School and her plans to secretly marry an indentured servant. In desperation, they plan to leave Jamaica. But Emerald's father has other plans!
As their paths intertwine, Emerald and Baret set out on a journey filled with danger, intrigue, and romance.
The Duke's Refuge (The Leeward Islands Series) by Lorri Dudley
When love comes in a tempest, who knew it would wear pink?
Georgia Lennox has traded in her boyish ways for pink gowns and a coy smile to capture the eye of the Earl of Claremont. However, on the day she's convinced the earl will propose, Georgia is shipped off to the Leeward Islands to care for her ailing father. But when she arrives on Nevis, the last thing she expects is to learn that her abrupt departure was not at her father's bidding but that of the infuriating, yet captivating, island schoolmaster. And now her plans may well be shipwrecked.
Harrison Wells is haunted by the memories of his deceased wife and hunted by the subsequent women who aspire to be the next Duchess of Linton. Desiring anonymity, he finds sanctuary in the Leeward island of Nevis. He's willing to sacrifice his ducal title for a schoolmaster's life and the solace the island provides. That is until unrest finds its way to Nevis in a storm of pink chiffon—Miss Georgia Lennox.
As Georgia and Harrison's aspirations break apart like a ship cast upon the rocks, a new love surfaces, but secrets and circumstances drag them into rough waters. Can they surrender their hearts to a love that defies their expectations.
---
A Bound Heart by Laura Frantz
Though Magnus MacLeish and Lark MacDougall grew up on the same castle grounds, Magnus is now laird of the great house and the Isle of Kerrera. Lark is but the keeper of his bees and the woman he is hoping will provide a tincture that might help his ailing wife conceive and bear him an heir. But when his wife dies suddenly, Magnus and Lark find themselves caught up in a whirlwind of accusations, expelled from their beloved island, and sold as indentured servants across the Atlantic. Yet even when all hope seems dashed against the rocky coastline of the Virginia colony, it may be that in this New World the two of them could make a new beginning–together.
Laura Frantz's prose sparkles with authenticity and deep feeling as she digs into her own family history to share this breathless tale of love, exile, and courage in Colonial America.
---
What books can you recommend? Which one appeals the most to you?