Welcome to the second month of the Unlocking the Past 2022 Reading Challenge: Around the World. This month focuses on books that take place in Asia. While I will generally focus on Historical Fiction novels, I have included plenty of contemporary options as well. The majority of recommendations come from https://inspirationalhistoricalfiction.com/, other readers, or other authors. Especially don't forget to check out my partner's website, http://amongthereads.net/. The books aren't broken down by country, but you can find all sorts of wonderful reads. If none of these suggestions appeal to you, I highly recommend joining the Avid Readers Facebook Group and asking for their recommendations. They are AMAZING and your TBR pile will never be the same.
Add your suggestions in the comments, and/or tell me what you are reading. Have you read any of these below?
Monthly Reminders:
*If you read a book for January, don't forget to go to yesterday's post to comment and get your name entered for your chance to win a print copy. (You'll also earn your entry for the end of the year giveaway.)
*You can also join the Facebook Group. for more interaction and suggestions, or if you'd like a bookmark to remind you of the monthly challenges, fill out this Google Form.
---
Captured by Moonlight by Christine Lindsay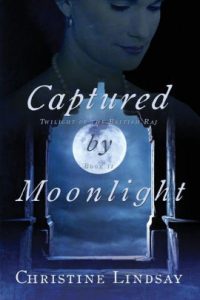 1921 – India
Prisoners to their own broken dreams… After a daring rescue goes awry, Laine Harkness and her friend Eshana flee to the tropical south of India…and headlong into their respective pasts. Laine takes a nursing position at a plantation in the jungle, only to discover that her former fiancé is the owner…but fun-loving Laine refuses to let Adam crush her heart like he had years ago. Eshana, captured by her traditional uncle and forced once more into the harsh Hindu customs of mourning, doubts freedom will ever be hers again, much less the forbidden love that had begun to flower. Amid cyclones, epidemics, and clashing faiths, will the love of the True Master give hope to these searching hearts?
---
Every Word Unsaid by Kimberly Duffy
1897 – Traveling/India
Augusta Travers has spent the last three years avoiding the stifling expectations of New York society and her family's constant disappointment. As the nation's most fearless–and reviled–columnist, Gussie travels the country with her Kodak camera and spins stories for women unable to leave hearth and home. But when her adventurous nature lands her in the middle of a scandal, an opportunity to leave America offers the perfect escape.
Arriving in India, she expects only a nice visit with childhood friends, siblings Catherine and Gabriel, and escapades that will further her career. Instead, she finds herself facing a plague epidemic, confusion over Gabriel's sudden appeal, and the realization that what she wants from life is changing. But slowing down means facing all the hurts of her past that she's long been trying to outrun. And that may be an undertaking too great even for her.
---
eye of the god by Ariel Allison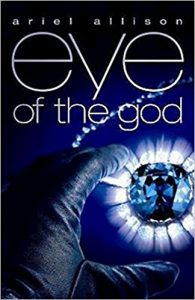 17th Century India/present day Brazil
eye of the god  takes the fascinating history surrounding the Hope Diamond and weaves it together with a present-day plot to steal the jewel from the Smithsonian Institute.
We follow Alex and Isaac Weld, the most lucrative jewel thieves in the world, in their quest to steal the gem, which according to legend was once the eye of a Hindu idol named Rama Sita. When it was stolen in the 17th century, it is said that the idol cursed all those who would possess it. That won't stop the brilliant and ruthless Weld brothers.
However, they are not prepared for Dr. Abigail Mitchell, the beautiful Smithsonian Director, who has her own connection to the Hope Diamond and a deadly secret to keep. Abby committed long ago that she would not serve a god made with human hands, and the "eye of the god" is no exception. Her desire is not for wealth, but for wisdom. She seeks not power, but restoration.
When the dust settles over the last great adventure of the Hope Diamond, readers will understand the "curse" that has haunted its legacy is nothing more than the greed of evil men who bring destruction upon themselves. No god chiseled from stone can direct the fates of humankind, nor can it change the course of God's story.
---
The Hope of Shridula by Kay Marshall Strom
The Blessing in India series is a saga set in India's heartbreaking history and breathtaking present that points toward a future of hope.  Along the way, name-only Christianity collides with Hinduism, and then is confronted by an entirely new understanding of the call to follow Christ.
India: 1946. For forty-eight years, Ashish and his family toiled as slaves in the fields of the high-caste Lal family, and all because of one small debt. At fifty-four, Ashish was old and worn out. Every day was a struggle to survive for his family including his only daughter.
His wife had named the girl Shridula—Blessings. "Perhaps the name will bring you more fortune than it brought me," Ashish told his daughter. His words proved to be prophetic in ways he could never have imagined. And when the flames of revolt brought independence to India, they seared change into the family of Ashish.
---
989 BC – Middle East/Yemen
A mysterious beauty, a destiny set in the stars. Born under an inauspicious sign, young Ismeni is feared by her own people. The single thing she prays for: to live an invisible life. But that is not to be for the young woman who has captured the attention of the king's youngest son. A story of love, passion, and twists of fate through the eyes of the woman who will one day give birth to the legendary Queen of Sheba.
---
Kingscote by Linda Chaikin
1800 – India
A Web of Treacherous Deceit, and a Silk Heiress Determined to Find Love in the Land She Calls Home.
JACE BUCKLEY, the dashing British officer, has promised to report to Kingscote, bringing with him news of Coral Kendall's missing adopted son. Coral is overjoyed, but her first priority is a mission school for the untouchables on the silk plantation—and the handsome Dr. Ethan Boswell has committed to fulfill Coral's dream.
Coral has long delayed choosing between two very different men, but her impending decision is overshadowed by mysterious threats against her and the school Ethan has struggled to build. When the precious Hindi scripture portions given to her by William Carey are found in ashes on the floor of her room, Coral realizes that she must somehow bridge the cultural dissension—before it destroys Kingscote.
Danger follows Jace in his search for Coral's abducted son, and the boy's mysterious roots leave Jace entangled in a web of treacherous deceit. Will Jace return to Kingscote in time to claim the woman he loves? Or will the flames of hate destroy all in its path?
---
The Mulberry Leaf Whispers by Linda Thompson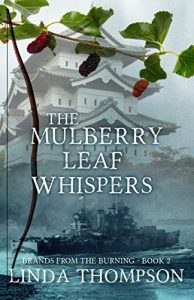 1587/1942 – Japan
A WWII Japanese naval officer. The teenage daughter of a legendary Christian samurai. Three centuries separate them, but a crucial question binds their destinies together.
1587. Bartered off in a peace agreement to the ancient enemies of her illustrious house, is Sono a war prize, a hostage, or a bride? One hope sustains her. If she can provide an heir to the dashing husband she just met, she'll ensure decades of peace for the beloved family she was forced to leave behind. But when a dark secret threatens her desperate bid to purchase their security, she must rise to a battle she never dreamed she'd fight.
1942. Akira Matsuura's naval vessel explodes under enemy fire. Everything he has lived for disappears in flames with it. His command, his crew, his future—all lost. Worse, his honor is eternally decimated. A prisoner's life is of value to no one. Least of all to himself. But a stunning twist reveals his family's secret shame. Can a long-buried truth provide the vital spark that reignites his will to live?
Thrill to two poignant journeys of courage, duty, and sacrifice, deftly woven through the centuries to inspire with dynamic faith that conquers despair.
---
The Nature of Small Birds by Susie Finkbeiner
1975 – Michigan
In 1975, three thousand children were airlifted out of Saigon to be adopted into Western homes. When Mindy, one of those children, announces her plans to return to Vietnam to find her birth mother, her loving adopted family is suddenly thrown back to the events surrounding her unconventional arrival in their lives.
Though her father supports Mindy's desire to meet her family of origin, he struggles privately with an unsettling fear that he'll lose the daughter he's poured his heart into. Mindy's mother undergoes the emotional rollercoaster inherent in the adoption of a child from a war-torn country, discovering the joy hidden amid the difficulties. And Mindy's sister helps her sort through relics that whisper of the effect the trauma of war has had on their family–but also speak of the beauty of overcoming.
Told through three strong voices in three compelling timelines, The Nature of Small Birds is a hopeful story that explores the meaning of family far beyond genetic code.
---
A Second Chance by Walt Mussell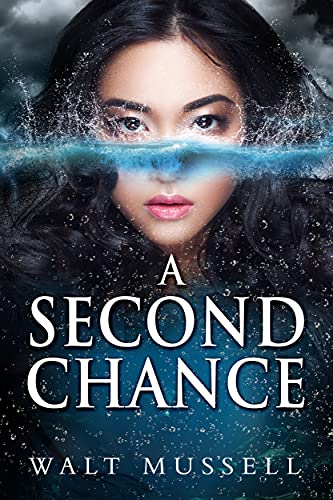 Time Travel 1500s – Japan
Kira Sakamichi is a career-driven woman, trying to achieve success before her mother's constant interference sentences her to a relationship. But when a grudging drive to meet her mother's latest "selection" ends in a lake accident, Kira wakes up lost in the past, the concubine of a 16th century samurai, and mother to his six-year-old son. When actions in battle lead to the samurai's condemnation, Kira learns that she and her son will share the samurai's fate. Only by understanding the importance of duty and family in both time periods can they survive.
---
Two Autumns, One Spring by Elizabeth Ann Boyles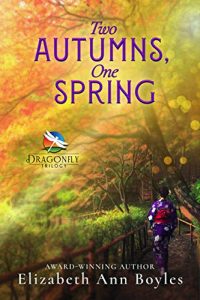 1861 – Japan
A deceitful mother-in-law, Nagasaki's vengeful official, conflicting beliefs–all work against a near-perfect marriage in 1861 Japan. In the Dragonfly Trilogy's third story, three months of bliss dissolve into threats of ruin. Sumi Taguchi Cardiff could lose her husband, disgrace her family, and be arrested for following Jesus, her new Liege.
John Cardiff, the first American consul in Nagasaki, never imagines his mother would try to destroy his marriage to the woman he adores.
Chief Inspector Sato blames Westerners, especially John, for his family's tragedy. He vows to prosecute any Japanese followers of the foreigners' evil religion.
What will happen to Sumi and John's faith and marriage in the depths of adversity? The outcome will resound in your heart long after you read this story's last page.
---
Uzura Seki: Black Sand by Murray Pura
1945 – Japan
The year was 1945. The war against Japan was over. Three men, best friends who had survived the horrors of combat, returned home and began to live another life, a better life. What had happened on the green islands of the South Pacific was forgotten or pushed away so far it could never come back to haunt them.
Except the war wouldn't go away. It couldn't be forgotten. It could never be pushed far enough away. The men awoke each morning to fight their battles over and over again. Now we call it PTSD. In the past, it was shell shock or combat fatigue. The three friends could not shake the darkness. It would take the women who loved them to bring the healing that would make the men whole again and bring them into the beautiful light of day.
---
Yesterday's Tomorrow by Catherine West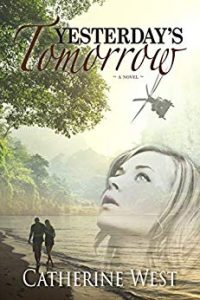 1967 – Vietnam
She's after the story that might get her the Pulitzer. He's determined to keep his secrets to himself.
Independent, career-driven journalist Kristin Taylor wants two things: to honor her father's memory by becoming an award-winning overseas correspondent, and to keep tabs on her only brother, Teddy, who signed up for the war against their mother's wishes.
Brilliant photographer Luke Maddox, silent and brooding, exudes mystery. Kristin is convinced he's hiding something.
Willing to risk it all for what they believe in, Kristin and Luke engage in their own tumultuous battle until, in an unexpected twist, they're forced to work together. Ambushed by love, they must decide whether or not to set aside their own private agendas for the hope of tomorrow that has captured their hearts.
---
What suggestions do you have? What are you going to read this month?