Welcome to the sixth month of the Unlocking the Past 2022 Reading Challenge: Around the World. This month focuses on books that take place in the Mediterranean. While I will generally focus on Historical Fiction novels, I have included plenty of contemporary options as well. The majority of recommendations come from https://inspirationalhistoricalfiction.com/, other readers, or other authors. Especially don't forget to check out my partner's website, http://amongthereads.net/. The books aren't broken down by country, but you can find all sorts of wonderful reads. If none of these suggestions appeal to you, I highly recommend joining the Avid Readers Facebook Group and asking for their recommendations. They are AMAZING and your TBR pile will never be the same. Here is a link where someone already asked!
Add your suggestions in the comments, and/or tell me what you are reading. Have you read any of these below?
Monthly Reminders:
*If you read a book for December, don't forget to go to yesterday's post to comment and get your name entered for your chance to win a print copy. (You'll also earn your entry for the end of the year giveaway.)
*You can also join the Facebook Group. for more interaction and suggestions, or if you'd like a bookmark to remind you of the monthly challenges, fill out this Google Form.
---
The Prince and the Prodigal by Jill Eileen Smith
1842 BC – Israel/Egypt
Joseph is the pampered favorite son of the patriarch Jacob. His older brothers, deeply resentful of his status in the family, take advantage of the chance to get rid of him, selling him to slave traders and deceiving their father about his fate. It seems like their troubles are over. But for Joseph and older brother Judah, they are just beginning.
While Joseph is accused of rape and imprisoned, Judah attempts to flee the memory of his complicity in the betrayal of his younger brother. After decades apart, the brothers will come face-to-face in a stunning role reversal that sees Joseph in a position of great power while Judah begs for mercy. Will forgiveness or vengeance win the day?
---
A Time to Seek by Tracy Higley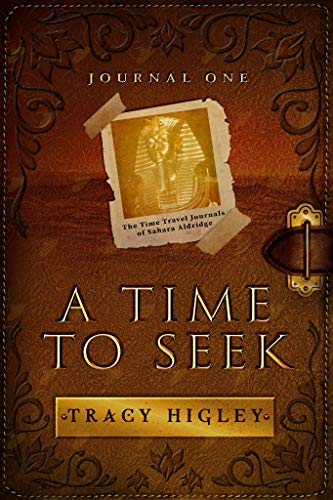 1300s BC/1922 – Egypt
Sahara Aldridge, a young Egyptologist in 1922, is making a name for herself on the digsite soon to become Egypt's most sensational discovery—the tomb of the boy-king, Tutankhamun. Despite opposition from a mostly-male profession, Sahara fights to continue the legacy of her Egyptologist parents, who died tragically at sea when she was a teen.
But then a childhood friend finds a lost journal written by Sahara's mother, hinting at the bizarre possibility of time-travel, and a crazy suspicion forces Sahara to confront a freak incident years earlier…Is it possible her parents were time travelers? And has she inherited this mind-blowing ability?
When the American journalist Jack Moretti begins asking too many questions, Sahara suspects he knows more than he's telling. Did her parents truly perish in an accident? Or did someone target and murder them because of their time traveling gift?
There's only one way to unearth the truth. Sahara must travel back in time, to the days of King Tut. But the biggest surprise is yet to come… the truth about her parents, and about her own destiny, discovered in the whispers of conspiracy around the death of Egypt's most famous Pharaoh. But what secrets are better left buried?
---
The Egyptian Princess by K. D. Holmberg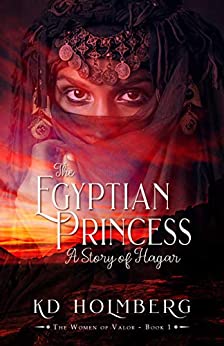 2085 BC – Egypt
Two women, one ancient Egyptian harem, and the daring decision that changed the course of history.
In the opulent court of Egypt's tenth dynasty, Princess Hagar has always known her destiny. One day, she will marry the Crown Prince Merikare and become the Great Royal Wife, the most powerful woman in Egypt. But dark dreams afflict Hagar the moment she hears of the latest addition to Pharaoh's harem: the stunning, iridescent Sumerian, Sarai. Princess Hagar feels a powerful presence around the Sumerian woman. Hagar suspects Sarai has brought black magic into the palace—but what can she do to convince Pharaoh?
The intrigue of Pharaoh's court pales in comparison to that swirling in the Royal House of Women among the wives, children, and concubines of the king. Sarai's arrival upsets the already precarious balance.  Loyalties divide, and betrayal, jealousy, and tragedy plague the once peaceful household. When a series of disasters befalls Egypt, Hagar must make a daring decision, and the stakes could not be higher. She could lose everything—her position, her power, her family, and even her life.
Torn between the silent gods of Egypt and the powerful presence that surrounds Sarai, Hagar's world falls apart around her. She must acknowledge the terrible price of truth, and decide for herself who she will serve.
---
The General's Wife by Sara Turnquist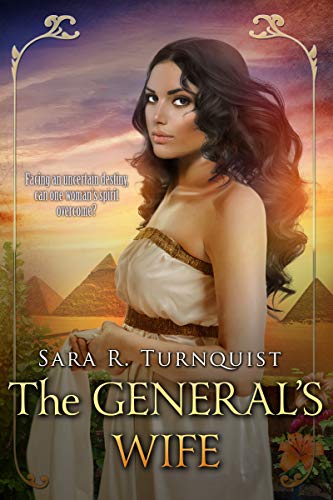 200s BC – Egypt
A Greek noblewoman in a foreign land. The Pharaoh's highest general preparing for battle.
Ismene, a beautiful, somewhat naïve, young noblewoman, is torn from her childhood home in Greece and her first love. Bound by honor and duty, she marries Pharoah's chief military commander, Alistair. Though determined to remain true to the man she left behind, her new husband stirs feelings in her she cannot ignore.
Attempting to accept this brazen new culture, it isn't long before she discovers that the locals don't like her. The Alexandrian mob starts making anonymous threats. This faceless group will stop at nothing to achieve its goal of driving out the unwelcome Greeks. In the midst of these heightening attacks, the general must leave for battle. Ismene fears that she is on her own.
Evidence of a spy within her own household arises. It soon becomes apparent that one of these Egyptian rebels wants her dead. The safety of Ismene, and possibly the entire ruling class of Egypt, hangs in the balance.
---
Among Sand and Sunrise by Stacy Henrie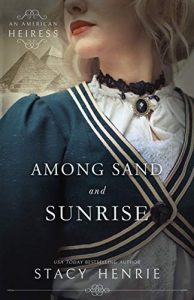 1909 – Egypt
After three failed seasons, American heiress Syble Rinecroft is more than ready to move forward in a life of independence and adventure. And what better way to begin than by taking a trip to Egypt with her grandmother and her band of widowed friends to find a hidden tomb? There's only one catch. The archaeologist the widows insist on employing is none other than the irritating Marcus Brandt whom Syble met years ago on another trip to Egypt. If Syble has any hope of finding the tomb and being known for something other than too vivacious to make anyone a suitable wife, she'll have to learn to work with Marcus.
British archaeologist Marcus Brandt has only ever wanted one thing—a discovery in Egypt that will bring him the acclaim that has eluded his career. Such a thing will surely be found in the tomb he is presently clearing. So when his wealthy patroness and her friends, including Marcus's grandmother, seek his help in finding a hidden tomb, he's reluctant to agree to the new dig. Especially when it involves daily interaction with Syble Rinecroft, the annoying adolescent he met eight years ago.
Compelled to do the dig for different reasons, Syble and Marcus finally agree to work together, in spite of their opposite approaches to life. As the days pass, though, they discover there may be more to each other and their growing friendship than either expected to find. And yet, opening their hearts might just cost them their dreams.
---
A Rose for the Resistance by Angela Couch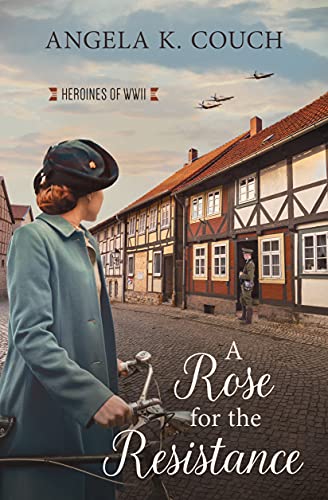 1940 – France
A French Woman and German Soldier Create a Truce
With her father in a German POW camp and her home in Ste Mere Eglise, France, under Nazi occupation, Rosalie Barrieau will do anything to keep her younger brother safe. . .even from his desire to join the French resistance. Until she falls into the debt of a German soldier—one who delivers a wounded British pilot to her door. Though not sure what to make of her German ally, Rosalie is thrust deep into the heart of the local underground. As tensions build toward the allied invasion of Normandy, she must decide how much she is willing to risk for freedom.
---
Until Leaves Fall in Paris by Sarah Sundin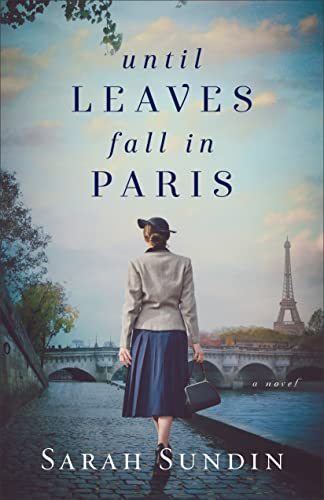 1940 – France
As the Nazis march toward Paris in 1940, American ballerina Lucie Girard buys her favorite English-language bookstore to allow the Jewish owners to escape. Lucie struggles to run Green Leaf Books due to oppressive German laws and harsh conditions, but she finds a way to aid the resistance by passing secret messages between the pages of her books.
Widower Paul Aubrey wants nothing more than to return to the States with his little girl, but the US Army convinces him to keep his factory running and obtain military information from his German customers. As the war rages on, Paul offers his own resistance by sabotaging his product and hiding British airmen in his factory. After they meet in the bookstore, Paul and Lucie are drawn to each other, but she rejects him when she discovers he sells to the Germans. And for Paul to win her trust would mean betraying his mission.
Master of WWII-era fiction Sarah Sundin invites you onto the streets of occupied Paris to discover whether love or duty will prevail
---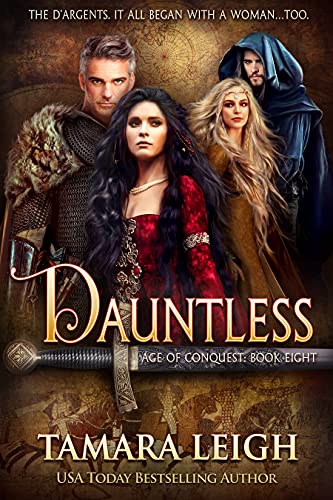 1036 – France
THE D'ARGENTS. IT ALL BEGAN WITH A WOMAN…TOO.
Medieval Normandy. Before William the Conqueror conquered, there was the family D'Argent. And a marriage alliance destined to give rise to England's formidable Wulfriths.
BEHOLD THE VICTOR
The day Godfroi D'Argent defeats his brother in a contest of arms, he gains his family's lands. And a less than desirable bride. Certain it will be years before his enemy's daughter grows into a lady of worth, he devotes himself to securing his lordship. When at last Robine assumes her rightful place, Godfroi is unprepared for how much she moves him. Counting it weakness, he refuses to acknowledge the depth of his feelings even to himself—until he falls in battle. With little hope of restoring the warrior, he allows Robine and their young sons to believe him dead. But when the mysterious hermit who pulled him from the battlefield persuades him to return home, it is not to a wife with open arms but one entangled in sin. Is it true only three are needed to salvage a marriage—husband, wife, and God? And what is to be done with proof of Robine's indiscretion?
BEWARE THE SHE-BEAR
Just as Robine's husband rejects her on their wedding night, so too her love. When she becomes his wife in truth and he withholds his heart, she determines to cease loving him. But what proves impossible becomes irrelevant when he is slain. Painfully aware once her period of mourning ends she must provide her sons a protector, she undertakes a journey to her family and is set upon by brigands. In the midst of fiercely defending her children, a chevalier rides to her aid and proves a worthy suitor. When Robine's uncertainty over wedding her betrothed leads to a fall from grace, there is no going back—unless Godfroi returns from the dead. Can she forgive her husband for allowing her to believe he perished? Can he forgive his wife for a sin soon apparent to all? And what of granting the innocent grace?
---
Thief of Corinth by Tessa Afshar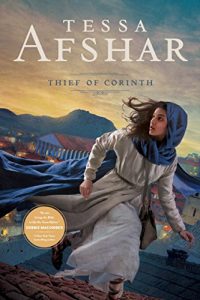 1st Century AD – Greece
First-century Corinth is a city teeming with commerce and charm. It's also filled with danger and corruption—the perfect setting for Ariadne's greatest adventure.
After years spent living with her mother and oppressive grandfather in Athens, Ariadne runs away to her father's home in Corinth, only to discover the perilous secret that destroyed his marriage: though a Greek of high birth, Galenos is the infamous thief who has been robbing the city's corrupt of their ill-gotten gains.
Desperate to keep him safe, Ariadne risks her good name, her freedom, and the love of the man she adores to become her father's apprentice. As her unusual athletic ability leads her into dangerous exploits, Ariadne discovers that she secretly revels in playing with fire. But when the wrong person discovers their secret, Ariadne and her father find their future—and very lives—hanging in the balance.
When they befriend a Jewish rabbi named Paul, they realize that his radical message challenges everything they've fought to build, yet offers something neither dared hope for.
---
Sons of Thunder by Susan May Warren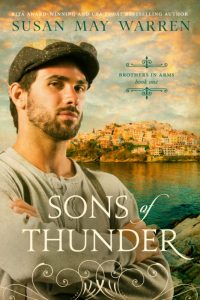 1940s – Ilinois to Multiple Country Travel
Sophie Frangos is torn between the love of two men and the promise that binds them all together. Markos Stavros loves Sophie from afar while battling his thirst for vengeance and his hunger for honor. Dino, his quiet and intelligent brother, simply wants to forget the horror that drove them from their Greek island home to start a new life in America. One of these "sons of thunder" offers a future she longs for, the other–the past she lost. From the sultry Chicago jazz clubs of the roaring twenties to World War II battlefields of Europe to a final showdown in a Greek island village, they'll discover betrayal, sacrifice, and finally redemption. Most of all, when Sophie is forced to make her choice, she'll learn that God honors the promises made by the Sons of Thunder.
---
 1940s – England/Egypt/Greece
Thursday's Child is the newest adventure/romance in the popular A Day to Remember series by award-winning author Linda Chaikin.
When Paulette marries Garret Holden, she's certain their love will last. Their first year is exciting and romantic…until tragedy strikes. They suffer a bitter separation, and Paulette blames Garret. Then her uncle sends word from Greece that Garret has been shot and is hunted by German agents. When Paulette sets out on a perilous journey to find him, Hitler's army is ready to storm Athens.
"Thursday's child has far to go" in her search for her husband—and her own journey. Leaving a place of safety, Paulette puts herself into God's hands to reconcile with the man she's promised to love forever.
---
Defending David by Barbara Britton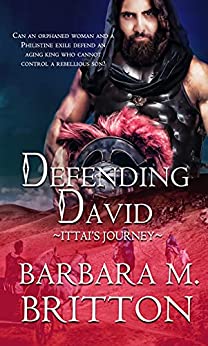 990s BC – Israel
When a quiet journey to Jerusalem turns tragic, newly orphaned Rimona must flee a kinsman set on selling her as a slave. Racing into the rocky hills outside of Hebron, Rimona is rescued by a Philistine commander journeying to Jerusalem with six-hundred warriors.
Exiled commander, Ittai the Gittite, is seeking refuge in the City of David. Protecting a frantic Hebrew woman is not in his leadership plan. Although, having a nobleman's niece in his caravan might prove useful for finding shelter in a foreign land.
Rimona and Ittai arrive in Jerusalem on the eve of a rebellion. In the chaos of an heir's betrayal, will they be separated forever, or can they defend King David and help the aging monarch control his rebellious son?
---
What are your suggestions?
---